六尺棒術
ROKUSHAKU BŌ JUTSU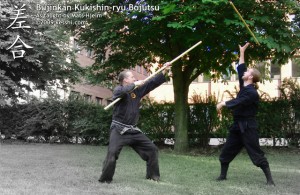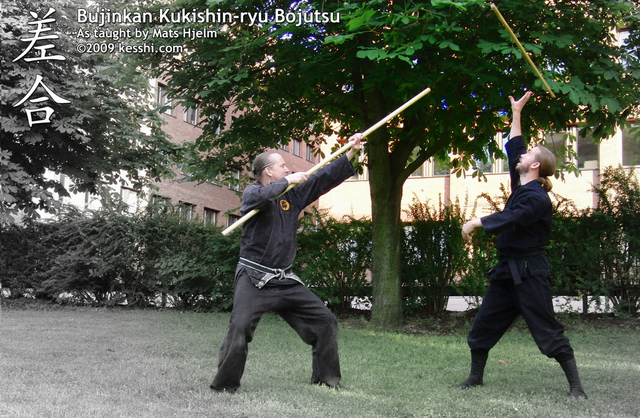 The bōjutsu of Kukishin Ryū is best described as a method used to defeat/trick wielders of other weapons. It has special striking techniques that allow the Bō to feign quickly and re-direct its aim; a special method of "twirling" (Bofurigata) designed to confuse opponents and keep them at bay; and thrusting techniques that correlate with throwing the staff as a projectile (nagebō). Aspects of the Bōjutsu are gleaned from two other weapons within the school: naginata and the spear (from Wikipedia).

(Video clip from Rokushaku Bōjutsu – Basics by Mats Hjelm)
In the video above I also show some training drills and ideas how to use the Rokushakubō with Gyokkō-ryu Sanshin no Kata. The staff is used different than Okinawa (Karate) styles. We try to use the whole length of the weapon and strike from distance. Or we go in close to make it difficult for the opponent to use his weapon and use Jūtaijutsu. Hatsumi Sōke once said that to be good with sticks you also need to be good in Jūtaijutsu (Jūjutsu), this is very true when you come in close with the opponent and can not wield the weapon freely.
九鬼神流棒術 KUKISHIN-RYŪ BŌJUTSU
構えKAMAE: (Postures)
1. 上段の構えJŌDAN NO KAMAE
2. 中段の構えCHŪDAN NO KAMAE
3. 下段の構えGEDAN NO KAMAE
4. 一文字の構えICHIMONJI NO KAMAE
5. 平一文字の構えHIRA ICHIMONJI NO KAMAE
6. 詥変IHEN NO KAMAE
7. 青眼の構えSEIGAN NO KAMAE
8. 天地人の構えTENCHIJIN NO KAMAE
9. へい倒 HEITŌ NO KAMAE
棒の礼法 BŌ NO REIHŌ
1. 座礼 ZA REI
2. 立礼 RITSU REI
起本型 KIHON KATA
1. 打型 UCHI KATA
2. 受身型UKEMI KATA
3. 足払 ASHI BARAI
4. 面打払い方MEN UCHI HARAI GATA
5. 突き跳ね型 TSUKI HANEAGE KATA
6. 棒振型 BŌFURIGATA
7. 四方棒振型 SHIHO BŌFURIGATA
8. 投げ棒 NAGE BŌ
稽古捌型 KEIKO SABAKI KATA
1. 五法 GOHŌ
2. 裏五法 URA GOHŌ
3. 差合 SASHI AI
4. 船張り FUNABARI
5. 寵の一足 CHŌ NO ISSOKU
6. 裏の一足 URA NO HITOASHI
7. 裾落 SUSO OTOSHI
8. 裏裾落 URA SUSO OTOSHI
9. 一本杉 IPPON SUGI
10. 瀧落 TAKI OTOSHI
11. 虚空 KOKŪ
12. 笠の内 KASA NO UCHI
13. 太刀落 TACHI OTOSHI
14. 払 HARAI
15. 小手附 KOTE ZUKE
16. 向詰(一) MUKO ZUME
17. 蹴り挙げ KERI AGE
18. 撃留 GEKI RYŪ
19. 附入 TSUKE IRI
20. 五輪砕 GO RIN KUDAKI
21. 天地人 TEN CHI JIN
22. 前広 MAE HIRO
23. 両小手 RYŌ KOTE
24. 浦波 URA NAMI
25. 玉返 TAMA GAESHI
初傳型 SHODEN KATA
1. 中段杆打 CHŪDAN KANGI
2. 下段杆打 GEDAN KANGI
3. 詒変杆打 IHEN KANGI
4. 上段護技 JŌDAN GŌGI
5. 一文字護技 ICHIMONJI GŌGI
6. 平一文字護技 HIRAICHIMONJI GŌGI
7. 一文字掃く技 ICHIMONJI HAKUGI
8. 青眼掃く技 SEIGAN HAKUGI
9. 天地人こう技 TENCHIJIN HAKUGI
中傳型 CHŪDEN KATA
1. 上段挨技 JŌDAN AIGI
2. 下段挨技 GEDAN AIGI
3. 平一文字挨技 HIRAICHIMONJI AIGI
4. 中段じゅ技 CHŪDAN JŪGI
5. 一文字じゅ技 ICHIMONJI JŪGI
6. 詥変ちゅう技 IHEN JŪGI
7. 青眼摧技 SEIGAN SAIGI
8. 天地人摧技 TENCHIJIN SAIGI
9. 一文字摧技 ICHIMONJI SAIGI
奥傳 OKUDEN KATA
1. 上段搶技 JŌDAN SŌGI
2. 下段搶技 GEDAN SŌGI
3. 平一文字搶技 HIRAICHIMONJI SŌGI
4. 中段格技 CHŪDAN KAKUGI
5. 一文字格技 ICHIMONJI KAKUGI
6. 詥変格技 IHEN KAKUGI
7. 青眼拒技 SEIGAN YAKUGI
8. 天地人拒技 TENCHIJIN YAKUGI
9. 撆倒拒技 HEITO YAKUGI