玉虎流骨指術 Gyokkō-ryū Kosshijutsu is what's written on my 15'th Dan Menkyo from Hatsumi Sōke.
玉虎流骨指術
GYOKKŌ-RYŪ KOSSHIJUTSU
玉 GYOKU, tama : jewel, ball
虎 KO, tora, take : tiger, drunkard
流 RYŪ, RU, nagare : style, current, flow
骨 KOTSU, hone : knack, skill, bone, frame
指 SHI, yubi, sashi : finger, point to, indicate
術 JUTSU, sube : art, technique, skill, trick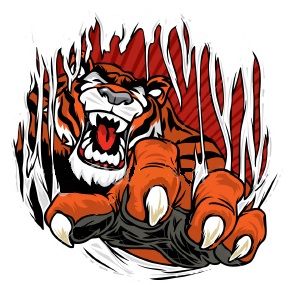 玉虎流 Gyokkō-ryū Kosshijutsu (Jewel of the tiger's school) has it's origin from China and was brought to Japan during the Tang Dynasty (618 AD – 907 AD) by Yo Gyokkō (Cho Gyokkō). If it was one person, two or even a group of people is unknown.
A couple of generations later the school was founded by 戸沢白雲斎 Tozawa Hakūnsai in the Hogen era (1156 AD – 1159 AD). Later on 坂上太郎国重 Sakagami Taro Kunishige reorganized the teachings in the Tenbun era (1532 AD – 1555 AD) and named the school 玉虎流指頭術 Gyokkō-ryū Shitōjutsu.
Shortly after 僧玉観律師 Sogyokkan Ritsushi changed the style to 玉虎流骨指術 Gyokkō-ryū Kosshijutsu. The school then passed on to the 百地 Momochi family from the Iga region, he later became one of the most famous Ninja leaders.
In the Kwanyei era (1624 AD – 1644 AD) the school was passed on to the 戸田 Toda family which kept it in the family until the early 20'th century. 高松寿嗣翊翁 Takamatsu Toshitsugu Uō learned the school from 戸田真竜軒正光 Toda Shinryuken Masamitsu at a very young age until Toda passed away in 1909 AD.
In the late 1950's 初見良昭 Hatsumi Masaaki who was already a highly skilled budōka met Takamatsu Sensei for the first time. Hatsumi Sōke said many times that he had met many masters, but never felt anything special about them. Until he met Takamatsu Sensei for the first time, then he realized that he had met a true master. Hatsumi Soke trained for 15 years with Takamatsu Sensei until he passed away 1972.
Sanshin no kata and Kihon-happō which is considered to be the most important basics in Bujinkan today has its origin from Gyokkō-ryū. The taijutsu is somewhat more circular movements than the other schools in Bujinkan. Most of the strikes and kicks are with the finger tips and toes against the opponents muscles and soft tissues. The grappling techniques are often done in a way where you make the opponent get sucked in to a vacuum created by your circular movement.
Ki-gata (The postures of Gyokko Ryū, includes methods of moving within them)
Torite Kihon Gata, Taihenjutsu Gata and Moto Gata (These are the fundamental techniques that make up the system)
Jō-ryaku no maki (Contains various forms, each form contains principles that the practitioner needs to understand. All unarmed vs unarmed)
Chū-ryaku no maki (Contains more forms, these are more advanced than Joryaku no Maki forms. Unarmed vs unarmed and unarmed vs kodachi)
Ge-ryaku no maki (Contains very advanced forms. All Muto Dori.)
傳系 DENKEI
…
…
…
…
…
1.
2.
3.
4.
5.
…
6.
7.
8.
9.
10.
11.
12.
13.
14.
15.
16.
17.
…
18.
19.
20.
21.
22.
23.
24.
25.
26.
27.
28.
29.
玉虎
異匀
牙門道士
牙竜道士
八竜入道
戸沢白雲斎
戸沢庄助
鈴木三郎重義
鈴木五兵衛光貞
鈴木小二郎光久
戸沢宗雲
戸沢入道源会
八門兵雲
加藤滝白雲
坂上五郎勝重
坂上太郎国重
坂上小太郎源正秀
僧玉観律師
戸田左京一心斎
百地三太夫
百地三太夫 二代
百地丹波泰光
百地太郎左衛門
…
戸田盛柳信綱
戸田不動信近
戸田観五郎信安
戸田英三郎信正
戸田新兵衛正近
戸田新五郎正良
戸田大五郎近秀
戸田大三郎近繁
戸田真竜軒正光
高松寿嗣翊翁
初見良昭
石塚哲二
Yo Gyokkō / Cho Gyokkō
Ikai (Cho Buren)
Gamon Doshi
Garyu Doshi
Hachiryu Nyudo
Tozawa Hakūnsai
Tozawa Shosuke
Suzuki Saburo Shigeyoshi
Suzuki Gobei Mitsusada
Suzuki Kojiro Mitsuhisa
Tozawa Soun Sho
Tozawa Nyudo Geneai
Yamon Hyoun
Kato Ryu Hakūn
Sakagami Goro Katsushige
Sakagami Taro Kunishige
Sakagami Kotaro Masahide
Sogyokkan Ritsushi
Toda Sakyo Ishinsai
Momochi Sandayu I
Momochi Sandayu II
Momochi Tanba Yasumitsu
Momochi Taro Saemon
… [4 Generations!?*] …
Toda Seiryu Nobutsuna
Toda Fudo Nobuchika
Toda Kangoro Nobuyasu
Toda Eisaburo Nobumasa
Toda Shinbei Masachika
Toda Shingoro Masayoshi
Toda Daigoro Chikahide
Toda Daisaburo Chikashige
Toda Shinryuken Masamitsu
Takamatsu Toshitsugu Uoh
Hatsumi Masaaki
Ishizuka Tetsuji
618 AD – 907 AD
1056 AD
–
–
–
Hogen 1156 AD
Oho 1161 AD – 1162 AD
Joan 1171 AD – 1180 AD
–
–
O 1288 AD
–
–
Oei 1394 AD
Tenbun 1532 AD
Tenbun 1532 AD
Tenbun 1532 AD
Tenbun 1532 AD
Tenbun 1532 AD
Tenbun 1532 AD
Tensho 1573 AD
Bunroku 1595 AD
Genna 1615 AD
–
Kwanyei 1624 AD
Manji 1658 AD
Tenna 1681 AD
Hoyei 1704 AD
Shotoku 1711 AD
Gembun 1736 AD
Meiwa 1764 AD
Bunkwa 1804 AD
B. 1824 AD – D. 1909 AD
B. 1887 AD – D. 1972 AD
B. 1931 AD –
B. 1948 AD –
Hatsumi Soke is the 28'th headmaster of Gyokkō-ryū as far as I know. I've seen other web sites that states he is the 37'th Soke (I wish I knew the source for this!)?
* I don't know why there was such a big leap between 1394 AD and 1532 AD in the table above while there was so many masters between 1532 AD and 1624 AD. It might be possible that the four omitted generations was actually active between 1394 AD and 1532 AD.