戸隠流忍法体術
TOGAKURE-RYŪ NINPŌ-TAIJUTSU
戸 TO : door
隠 GAKURE : hidden, concealed
流 RYŪ : style, current, flow
忍 NIN : conceal, endure, secrete
法 PŌ: law, method, rule, system
体 TAI : body, substance, object
術 JUTSU : art, skill, technique, magic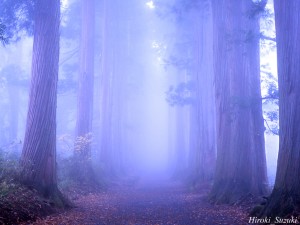 In 1182, during the Japanese Genpei War, at the end of the Heian Period, Minamoto no Yoshinaka, a general from the mountainous Nagano region of Japan, captured the capital city of Kyoto. After this victory, he found himself under attack by his cousin Yoshitsune. When Yoshitsune's troops successfully crossed the Uji river, a key strategic defense for the capital, Yoshinaka withdrew, only to be killed as his horse fell through the ice of a frozen rice paddy.
After Yoshinaka's defeat, one of his samurai retainers, Daisuke Nishina of Togakure Village escaped to the mountains of Iga in south central Japan. Nishina's native village of Togakure is now known as Togakushi, Nagano, and was an early center of Shugendo training. It may be that Nishina engaged in such training, but the records of the Togakure ryu do not mention it. The mountains provided an easy place to hide from the enemy troops, who still searched for Yoshinaka's forces. Daisuke Nishina, who subsequently changed his name to Daisuke Togakure, later became known as the first Sōke (family head) of Togakure-ryū.
In Togakure-ryu it is said that you first should study the 武芸十八般 Bugei-jūhappan the 18 martial skills to be learnt by the common Japanese warrior (bushi). Then you also study the 忍身十八形 Ninja-jūhakkei according the Togakure-ryū (see below). Together all these 36 arts is known as the 忍法三十六型 Ninpō-sanjūroppō.
忍身十八形 NINJA-JŪHAKKEI
体術 Taijutsu (unarmed combat, using one's body as the only weapon)
剣術 Kenjutsu (sword fighting)
棒術 Bōjutsu (stick and staff fighting)
手裏剣術 Shurikenjutsu (throwing blades)
槍術 Sōjutsu (spear fighting)
長刀術 Naginatajutsu (naginata fighting)
鎖鎌術 Kusarigamajutsu (chain and sickle weapon)
火薬術 Kayakujutsu (pyrotechnics and explosives)
変装術 Hensōjutsu (disguise & impersonation)
忍び入り Shinobi-iri (stealth and entering methods)
馬術 Bajutsu (horsemanship)
水練 Sui-ren (water training)
謀略 Bōryaku (military strategy)
諜報 Chōhō (espionage)
隠遁術 Intonjutsu (escaping and concealment)
天文 Tenmon (meteorology)
地文 Chi-mon (geography)
精神的教養 Seishin-teki kyōyō (spiritual refinement)
.
傳系 DENKEI
.
.
.
.
.
.
.
.
1.
2.
3.
4.
5.
6.
7.
8.
9.
10.
11.
12.
13.
14.
15.
16.
17.
18.
19.
20.
21.
22.
23.
24.
25.
26.
27.
28.
29.
30.
31.
32.
33.
34.
35.
玉虎
異匀
牙門道士
牙竜道士
…
八竜入道
戸沢白雲斎
…
戸隠大助
志摩小三太源兼定
戸隠五郎
戸隠小三太
甲賀鬼三太
金子友春
戸隠龍法
戸隠岳雲
木戸小石
伊賀天龍
上野利平
上野千里
上野万二郎
飯塚三郎
沢田五郎
大猿一平
十又八郎
片岡平座衛門
森宇源太
戸田五兵衛
神戸青雲
百地幸兵衛
戸張典善
戸田盛柳信綱
戸田不動信近
戸田観五郎信安
戸田英三郎信正
戸田新兵衛正近
戸田新五郎正良
戸田大五郎近秀
戸田大三郎近繁
戸田真竜軒正光
高松寿嗣翊翁
初見良昭
筒井巧
Yo Gyokkō / Cho Gyokkō
Ikai (Cho Buren)
Gamon Doshi
Garyu Doshi
[1]
Unryu Doshi
Hachiryu Nyudo
Tozawa Hakuunsai
[2]
Ise Saburo Yoshimoro
Togakure Daisuke
Shima Kosanta Minamoto no Kanesada
Togakure Goro
Togakure Kosanta
Koga Kisanta
Kaneko Tomoharu
Togakure Ryuho
Togakure Gakuun
Kido Koseki
Iga Tenryu
Ueno Rihei
Ueno Senri
Ueno Manji
Iizuka Saburo
Sawada Goro
Ozaru Ippei
Kimata Hachiro
Kataoka Heizaemon
Mori Ugenta
Toda Gogei
Kobe Seiun
Momochi Kobei
Tobari Tenzen
Toda Seiryu Nobutsuna
Toda Fudo Nobuchika
Toda Kangoro Nobuyasu
Toda Eisaburo Nobumasa
Toda Shinbei Masachika
Toda Shingoro Masayoshi
Toda Daigoro Chikahide
Toda Daisaburo Chikashige
Toda Shinryuken Masamitsu
Takamatsu Toshitsugu Uoh
Hatsumi Masaaki
Takumi Tsutsui
618 AD – 907 AD
1056 AD
Jiryaku 1065-1068 AD
Shoho 1074-1076 AD
Shoho 1074-1076 AD
Yasukioeicho 1096 AD
Heiji 1159 AD
Heiji 1159 AD
Oho 1161 AD
1180 AD
1200 AD
…
…
…
…
…
…
…
…
…
…
…
…
…
…
…
…
…
…
…
…
Kwanyei 1624-1644 AD
Manji 1658-1681 AD
Tenna 1681-1704 AD
Hoyei 1704-1711 AD
Shotoku 1711-1736 AD
Gembun 1736-1764 AD
Meiwa 1764-1804 AD
Bunkwa 1804 AD
b. 1824 – d. 1909 AD
b. 1887 – d. 1972 AD
b. 1931 – present
b. 1964 – present
Footnotes
Footnotes
(↵ returns to text)
Garyu Doshi founded Hakūn-ryū.↵
Tozawa Hakuunsai founded Gyokkō-ryū which is another school in the Bujinkan system.↵