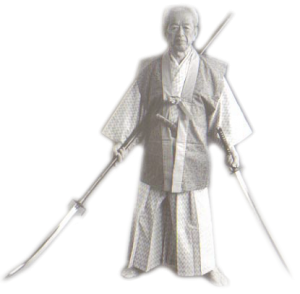 柔体術
JŪTAIJUTSU
Budō is a Philosophy.
Budō is Buddhism.
Budō is a creative art.
Without a spirit of Buddha,
Budō is a weapon of the devil.
Without creativity,
Budō will not advance.
In a life Tens of Hundreds of ways are there,
keep walking only on the way of truth.
乱取稽古 RANDORI KEIKO
After grasping the form and technique, one uses invisible movement, that is, positioning oneself at a location which is a blind spot for the opponent's vision with the purpose, rather than using one's own power, of causing the power of the opponents to collide taking away their fighting strength. The technique loses its form, but continues changing limitlessly.
The Gokui secret teachings of our Takagiyōshin-ryū tradition contain a story about catching a bee. There is a power phrase that goes "Amo issun no tamamushi" By saying this mantra and grabbing a bee without hesitating, you will avoid being stung.
The techniques we study in Bujinkan Kaigōzan dōjō is the following…
表型 OMOTE KATA
1. 霞捕 KASUMI DORI
2. 洞返 DŌ GAESHI
3. 搦捕 KARAME DORI
4. 虚倒 KYOTŌ
5. 片胸捕 KATAMUNE DORI
6. 両胸捕 RYŌMUNE DORI
7. 追掛捕 OIKAKE DORI
8. 戒後砕 KAIGO KUDAKI
9. 行違 YUKICHIGAI
10. 唯逆 YUIGYAKU
11. 乱勝 RANSHŌ
12. 拳流 KEN NAGARE
13. 膝車 HIZA GURUMA
裏型 URA KATA
1. 水月 SUIGETSU
2. 逆腕 GYAKU UDE
3. 腕折 UDE ORI
襟締型 ERI-JIME KATA
1. 本締 HON JIME
2. 逆締 GYAKU JIME
3. 腕締 UDE JIME
4. 一摘締 ITTEKI JIME
5. 痛締 ITAMI JIME
6. 押締 OSHI JIME
7. 逆押締 GYAKU OSAE JIME
8. 坐締 SUWARI JIME
捌型 SABAKI KATA
1. 片胸捕 KATAMUNE DORI
2. 両胸捕 RYŌMUNE DORI
3. 鬼砕 ONIKUDAKI
4. 背負鎌 SEOI GAKARI
5. 腰投鎌 KOSHINAGE GAKARI
6. 腕折 UDE ORI
7. 逆手投 GYAKUTE NAGE
8. 鬼門投 KIMON NAGE
9. 当投 ATE NAGE
10. 小蝶捕 KOCHŌ DORI
体之型 TAI NO KATA
1. 腰車 KOSHI GURUMA
2. 四ツ手 YOTSUDE
3. 四ツ手崩 YOTSUDE KUZUSHI
4. 刑頭 KEITŌ
5. 腰折 KOSHI ORE
6. 腰流 KOSHI NAGARE
7. 雲井返 KUMOI GAESHI
8. 両手掛 RYŌTE GAKE
9. 水流 MIZU NAGARE
10. 雪柳 YUKI YANAGI
11. 越後崩 ECHIGO KUZUSHI
12. 鵲 KASASAGI
13. 票墜 HYŌTSUI
14. 蔦搦 TSUTA GARAMI
15. 瀧落 TAKI OTOSHI
調型 SHIRABE KATA
1. 梅吐 UME HAKI
2. 車返 KURUMA GAESHI
3. 天返 TEN GAESHI
4. 流捕 NAGARE DORI
潜型 MOGURI KATA
1. 極楽落 GOKURAKU OTOSHI
2. 地獄捕 JIGOKU DORI
3. 玉砕 TAMA KUDAKI
4. 飛鳥捕 HICHŌ DORI
5. 鬼伏 ONIBUSE
6. 稲妻捕 INAZUMA DORI
7. 水鳥 MIZUTORI
8. 来雪 KURU YUKI
9. 体落 TAI OTOSHI
10. 潜捕 MOGURI DORI
11. 潜投 MOGURI NAGE
無刀捕型 MUTŌ-DORI KATA (武十捕十字論 MUTŌ-DORI JŪJIRON)
1. 拳者捕 KENJA DORI
2. 一文字 ICHIMONJI
3. 柄落 TSUKA OTOSHI
4. 向捕 MUKO DORI
5. 廻捕 MAWASHI DORI
6. 後捕 USHIRO DORI
7. 沈捕 SHIZUMI DORI
大小捌型 DAISHŌ SABAKI KATA
1. 柄砕 TSUKA KUDAKI
2. 引捕 HIKI DORI
3. 入捕 IRI DORI
4. 乱岳 RANGAKU
5. 掬捕 SUKUI DORI
6. 桝骨 MASUBONE
7. 潮返 USHIO GAESHI
8. 掛落 KAKE OTOSHI
9. 小手止 KOTE DOME
10. 横刀 YOKO GATANA
11. 車投 KURUMA NAGE
12. 四ツ手刀 YOTSUDE GATANA
13. 刃結 YAIBA MUSUBI
14. 透捕 SUKASHI DORI