杖術 JŌ-JUTSU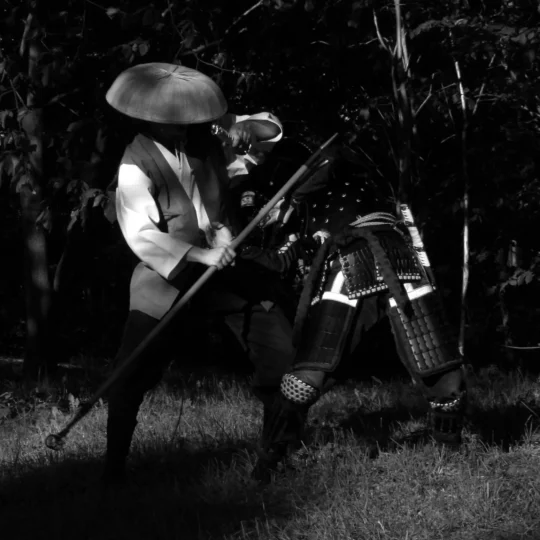 Jo-jutsu techniques was developed by Ōkuni Kogenta Yukihisa the 11'th Sōke of Kukishin-ryu in the Genna period (1615-1624). The length of the stick is individual, when placed on the ground it should reach up to your armpit.
We use the same Kamae, strikes and blocks as in Rokushakubōjutsu. The first Jojutsu technique is the same as the last technique in Bōjutsu Keiko Sabaki Kata.
修験者 Shugenja or 山伏 Yamabushi has walked around the mountains in Japan for over 1500 years with a walking stick this size. Although they where practicing religion they also practiced self defence, so they most likely developed self defence techniques with their walking staff. In the pictures above I used a replica of the staff En no Gyōja who founded Shugendō is often pictured carrying.
In 1954, Takamatsu Sensei became a senior priest of Shugendō. His posthumous Buddhist name is
武徳院殿順祥覺寿翊翁大居士
Butoku Inden Jūnsho Kakuju Shō Daikoji.
– Masaaki Hatsumi – The Complete Ninja, The Secret World Revealed page 130 and Dojo Giga Heaven page 78
I remember a training in the old Honbu Dojo Hatsumi Sōke casually said between techniques that he just received the same rank as Takamatsu Sensei had in Shugendō.
These techniques was recorded in 2015 and released on download at BUDOSHOP.SE in 2016.
九鬼神流杖術 KUKISHIN-RYU JO-JUTSU
三心之構 SANSHIN NO KAMAE
1. 自然 SHIZEN
2. 無 MŪ
3. 心 KOKORO
型 KATA
1. 十文字 JŪMONJI
2. 六法 ROPPŌ
3. 九法 KYŪHO
4. 龍飛 HIRYŪ
5. 附入 TSUKEIRI
6. 腕掛 UDEKAKE
7. 小手返 KOTE-GAESHI
8. 太刀落 TACHI-OTOSHI