槍 YARI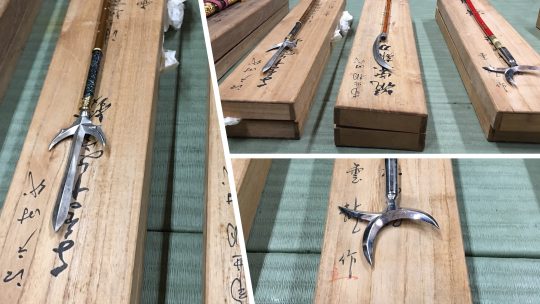 This is the basics for the Bujinkan spear fighting. The model of the spear we use in the Kukishin-ryu Sōjutsu Kata below is the 単槍 TAN-YARI, simple spear (see picture above). The length is 1 Shaku (30 cm) blade and 6 Shaku (183 cm) shaft with 鐏 ISHIZUKI a metal foot on the opposite end. However there are many, many variations of 槍 YARI (spears), from very short to very long up to 6 meters. Sometimes there are one or more hooks attached to the blade. In the picture to the right you can see some variations.
九鬼神流槍術術 KUKISHIN-RYŪ SŌJUTSU
槍の構 YARI NO KAMAE
1. 征眼之構 SEIGAN NO KAMAE
2. 流水之構 RYŪSUI NO KAMAE
3. 中段之構 CHŪDAN NO KAMAE
4. 上段之構 JŌDAN NO KAMAE
5. 詒変之構 IHEN NO KAMAE
6. 下段之構 GEDAN NO KAMAE
快攝型 KAISETSU KATA
1. 扞法 KANPŌ
2. 四方技 SHIHŌ-GI
3. 飛鳥抛 HICHŌ-KAKU
4. 一突挨法 HITO-TSUKI-IAIHŌ
5. 一擣三當 ITTŌ-SANTŌ
6. 撥摧 HASSAI
7. 秘槍 HISŌ
8. 天地摧 TENCHIKAKU
9. 撥捕扼 HAPPOYAKU
極意型 GOKUI KATA 霞型 KASUMI KATA
1.一文字 ICHIMONJI
2. 菊水 KIKUSUI
3. 巻蔦 KANCHŌ
4. 鬼刺 KISASU
5. 飛龍 HIRYŪ
6. 突伏 TSUKI-BUSE
7 .蔭蝶 KAGE-CHŌ
8. 三ツ玉 SATSUGYAKU
9. 七枚葉 KYOBA
免許皆伝変蝶型 MENKYO KAIDEN HENCHŌ KATA
1. 横倒 ŌTŌ
2. 龍頭 RYŪZU
3. 巴 TOMOE
4. 釘抜 CHŌGI
5. 嵐 ARASHI
6. 心明 SHINMYŌ
7. 瀧落 TAKI-OTOSHI
8 .横投 YOKO-NAGE
9 .立投 TATE-NAGE
10. 日月 NICHIGETSU
I made a seminar about the Bujinkan spear fighting and the Kaisetsu Kata, the first level with the nine techniques in 2004 and recorded them. You can download the video and 18 page manual from this page.