Kodachi history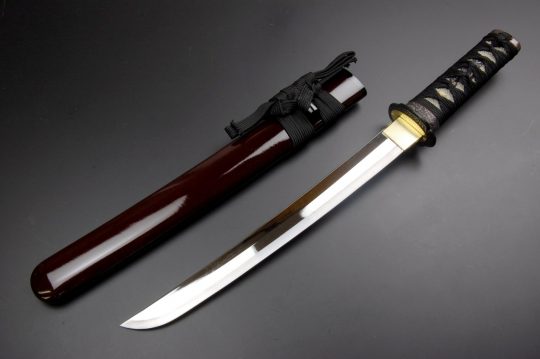 According Wikipedia the 小太刀 Kodachi are from the early Kamakura period (1185–1333) and are in the shape of a tachi. It is mounted in tachi style but with a length of less than 60 cm.
What has been taught in Bujinkan is that Kodachi and Shotō is the same. The way it is mounted decides what it is called.
When you wear the short sword together with the long sword inserted in the belt it is called Shotō or 脇差 Wakizashi (side inserted (sword). When you carry the short sword mounted as a Tachi it is called Ko-Tachi, also together with Yari or Naginata.
"The Kodachi has been neglected by most Budō-ka and masters since it was a weapon carried by the higher ranked officials." – Hatsumi Sōke (March 2003).
Kodachi Techniques
These are the techniques in 九鬼神流小太刀術 KUKISHIN-RYŪ KODACHIJUTSU
三心之構 SANSHIN NO KAMAE
1. 青眼之構 SEIGAN NO KAMAE
2. 中青眼之構 NAKA-SEIGAN NO KAMAE
3. 音無之構 ŌTONASHI NO KAMAE
型 KATA
1. 飛鳥の剣 HICHŌ NO KEN
2. 獅子撃 SHISHI GEKI
3. 十字剣 JUJI-KEN
This is a trailer from a seminar I did at Kaigozan Dojo in April 2022, available as a 32 min video download at BUDOSHOP.SE